Upcoming Tours
Highlights: Palo Verde National Park, Tenorio Volcano Park,  and Cano Negro
Sponsored by Birding Adventures Inc., and Costa Rica Expeditions. Guide Charlie Gomez, Leader Georgann Schmalz
Costa Rica is known for its incredible diversity of micro-climates, ecological zones and habitats. . Our destinations for this trip will present our group with wetlands, tropical dry and wet forests, grasslands and spectacular birds that live there.
Palo Verde National Park is  a vast network of mangrove-rich swamp, lagoons, marshes, grassland, limestone outcrops, and forests, containing one of the best examples of tropical dry forests remaining anywhere in the world. Río Tempisque spreads to form extensive wetlands replete with wading birds. In the dry season, birding is particularly good because there is very little vegetation to obstruct views of the roosting fauna. As resources grow scarce, the birds cluster by waterholes, making for easier viewing.  We can expect Double-striped Thick-knee, Turquoise-browed Motmot, White-throated Magpie-Jay, and many others in this dryer, northwest habitat, but will not likely be found in other areas of Costa Rica.
Tenorio NP
Tenorio Volcano National Park is found in the northern region, between the Arenal volcano and Miravalles volcano and covers 12,000 hectares under both the Caribbean and the Pacific climate influences. The National Park is dominated by the volcano, from which it receives its name. The upper area of the park is primarily primary cloud forest, while the lower regions are carpeted with rainforest, receiving up to 4000 mm of rain per year.
Cano Negro
Cano Negro Refuge is a lowland habitat in far north-central Costa Rica. Cano Negro is a good place to see Nicaraguan Grackle, Green Ibis, Lesser Yellow-headed Vulture, Black-collared Hawk, Spot-breasted Wren and a few others that might be target species. We will also have great looks at Bat Falcons, Bare-throated Tiger Herons, Gray-necked Wood Rail, and perhaps a Snowy Cotinga. Birding here is great fun as we will be on frequent boat trips.
Cost: Per Person $3251 (based on eight participants)
Single accommodation $450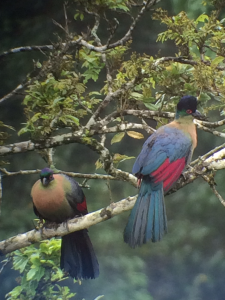 Stayed tuned for new trips and announcements.